50 Days, Grand Journey: Africa, The Med & Greece
on Crystal Symphony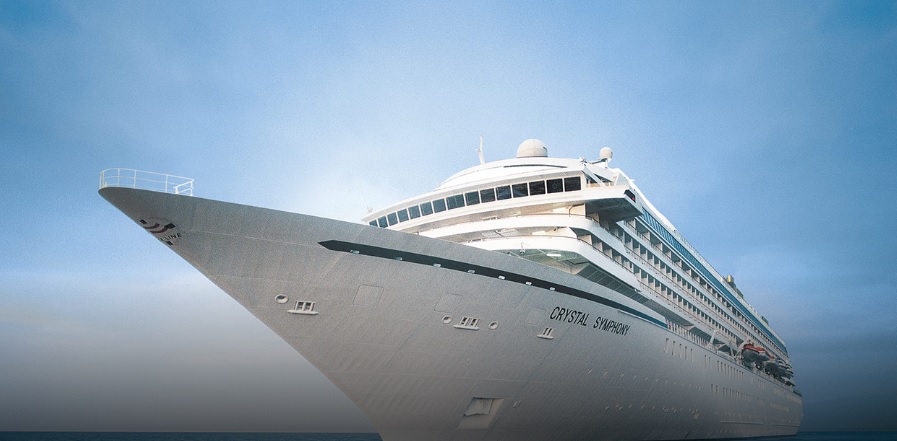 50 Days, Grand Journey: Africa, The Med & Greece
From adventures in Africa and the Canary Islands to discoveries in Portugal, Morocco and Spain, travel onward to elite playgrounds in France, Monaco, the Italian Riviera and Sicily before cruising the Greek Isles and exploring Kusadasi.

Since the beginning, Crystal has been the standard-bearer for excellence in luxury travel, remaining the undisputed choice among the savviest world travelers. Today, we are redefining it altogether, expanding the possibilities for our guests with choices, experiences and luxuries unmatched in the industry. By Ocean, River, Yacht, Expedition and Air, each Crystal Experience is designed to showcase the world and its wonders in the most remarkable ways. Join us as new adventures unfold...


| Day | Destination | Arrive | Depart |
| --- | --- | --- | --- |
| Mon | Cape Town, ZA | | |
| Tue | Cape Town, ZA | | 06:00 PM |
| Wed | Cruising The Atlantic Ocean | | |
| Thu | Lüderitz, NA | 07:00 AM | 05:00 PM |
| Fri | Walvis Bay, NA | 08:00 AM | 11:00 PM |
| Sat | Cruising The Atlantic Ocean | | |
| Sun | Cruising The Atlantic Ocean | | |
| Mon | Cruising The Atlantic Ocean | | |
| Tue | St. Helena/Jamestown, SH | 07:00 AM | 03:00 PM |
| Wed | Cruising The Atlantic Ocean | | |
| Thu | Ascension Island/Georgetown, SH | 08:00 AM | 06:00 PM |
| Fri | Cruising The Atlantic Ocean | | |
| Sat | Cruising The Atlantic Ocean | | |
| Sun | Cruising The Atlantic Ocean | | |
| Mon | Dakar, SN | 07:00 AM | 11:00 PM |
| Tue | Cruising The Atlantic Ocean | | |
| Wed | Porto Novo, CV | 07:00 AM | 06:00 PM |
| Thu | Cruising The Atlantic Ocean | | |
| Fri | Cruising The Atlantic Ocean | | |
| Sat | Santa Cruz de La Palma, ES | 07:00 AM | 05:00 PM |
| Sun | Cruising The Atlantic Ocean | | |
| Mon | Lisbon (Lisboa), PT | 09:00 AM | |
| Tue | Lisbon (Lisboa), PT | | 06:00 PM |
| Wed | Cruising The Atlantic Ocean | | |
| Thu | Funchal, PT | 08:00 AM | |
| Fri | Funchal, PT | | 04:00 PM |
| Sat | Santa Cruz de Tenerife, ES | 08:00 AM | 06:00 PM |
| Sun | Lanzerote/Arrecife, ES | 07:00 AM | 05:00 PM |
| Mon | Agadir, MA | 07:00 AM | 04:00 PM |
| Tue | Casablanca, MA | 07:30 AM | 07:00 PM |
| Wed | Cadiz, ES | 08:30 AM | 09:00 PM |
| Thu | Málaga, ES | 08:00 AM | 10:00 PM |
| Fri | Cruising The Mediterranean Sea | | |
| Sat | Barcelona, ES | 06:00 AM | |
| Sun | Barcelona, ES | | 06:00 PM |
| Mon | Marseille, FR | 08:00 AM | 06:00 PM |
| Tue | Cannes, FR | 07:30 AM | 10:00 PM |
| Wed | Monte Carlo, MC | 07:30 AM | 11:59 PM |
| Thu | Santa Margherita Ligure, IT | 07:30 AM | 10:00 PM |
| Fri | Florence/Livorno, IT | 07:00 AM | 07:00 PM |
| Sat | Rome/Civitavecchia, IT | 06:00 AM | 06:00 PM |
| Sun | Sorrento, IT | 07:30 AM | |
| Mon | Sorrento, IT | | 06:00 PM |
| Tue | Naxos (Taormina), Sicily, IT | 07:00 AM | 06:00 PM |
| Wed | Cruising The Ionian Sea | | |
| Thu | Santorini (Thíra), GR | 07:00 AM | 10:00 PM |
| Fri | Crete/Agios Nikolaos, GR | 08:00 AM | 06:00 PM |
| Sat | Rhodes, GR | 06:00 AM | 07:00 PM |
| Sun | Kusadasi, TR | 08:00 AM | 11:00 PM |
| Mon | Mykonos, GR | 07:00 AM | 07:00 PM |
| Tue | Athens/Piraeus, GR | 02:00 AM | |