31 Days, Ancient Trade Routes
on Crystal Symphony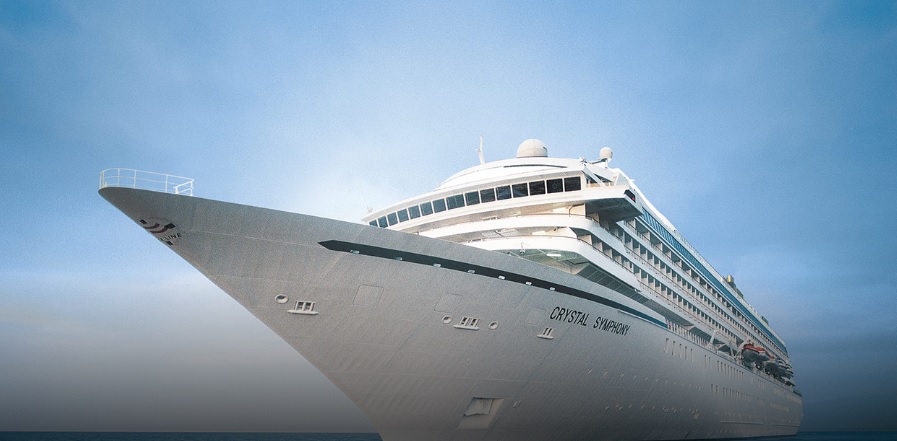 31 Days, Ancient Trade Routes
Marvel at Sri Lanka's many UNESCO treasures, Kuala Lumpur's mystique and India's cultural kaleidoscope. Explore Jordan's Rose City of Petra and the distinct skylines of Dubai and Muscat on a voyage culminating along the Italian coast.

Since the beginning, Crystal has been the standard-bearer for excellence in luxury travel, remaining the undisputed choice among the savviest world travelers. Today, we are redefining it altogether, expanding the possibilities for our guests with choices, experiences and luxuries unmatched in the industry. By Ocean, River, Yacht, Expedition and Air, each Crystal Experience is designed to showcase the world and its wonders in the most remarkable ways. Join us as new adventures unfold...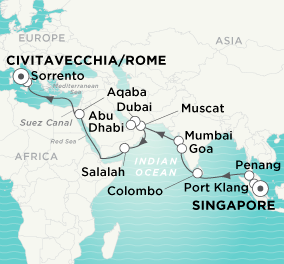 | Day | Destination | Arrive | Depart |
| --- | --- | --- | --- |
| Thu | Singapore, SG | | 05:30 PM |
| Fri | Port Kelang (for Kuala Lumpur), MY | 07:00 AM | 06:00 PM |
| Sat | Penang, MY | 08:00 AM | 05:00 PM |
| Sun | Cruising The Malacca Strait | | |
| Mon | Cruising The Indian Ocean | | |
| Tue | Colombo, LK | 02:00 PM | |
| Wed | Colombo, LK | | 07:00 PM |
| Thu | Cruising The Indian Ocean | | |
| Fri | Goa, IN | 08:30 AM | 05:00 PM |
| Sat | Mumbai (Bombay), IN | 08:00 AM | |
| Sun | Mumbai (Bombay), IN | | 05:00 PM |
| Mon | Cruising The Arabian Sea | | |
| Tue | Cruising The Gulf Of Oman | | |
| Wed | Abu Dhabi, AE | 08:00 AM | 11:00 PM |
| Thu | Dubai, AE | 08:00 AM | |
| Fri | Dubai, AE | | |
| Sat | Dubai, AE | | 05:00 PM |
| Sun | Muscat, OM | 01:00 PM | |
| Mon | Muscat, OM | | 06:00 PM |
| Tue | Cruising The Gulf Of Oman | | |
| Wed | Salalah, OM | 07:00 AM | 05:00 PM |
| Thu | Cruising The Gulf Of Aden | | |
| Fri | Cruising The Red Sea | | |
| Sat | Cruising The Red Sea | | |
| Sun | Cruising The Red Sea | | |
| Mon | Al 'Aqabah, JO | 07:00 AM | 10:00 PM |
| Tue | Cruising the Gulf of Aqaba | | |
| Wed | Transit the Suez Canal | | |
| Thu | Cruising The Mediterranean Sea | | |
| Fri | Cruising The Mediterranean Sea | | |
| Sat | Sorrento, IT | 07:00 AM | 07:00 PM |
| Sun | Rome/Civitavecchia, IT | 06:00 AM | |